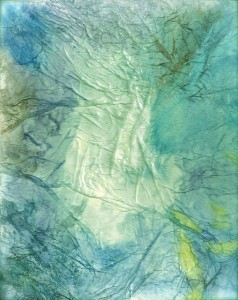 Teal is the color of the ocean under a sunlit sky, and as you descend into its depths. It's the color that streaks through the golds and reds of a tropical sunset and that emerges with the dawn. Teal nestles in the overlap of blues and greens in an afternoon rainbow. Teal, in fact, is blue shaded with green. Or green shaded with blue. Take your pick.
Is Teal Blue-Green or Green-Blue?
It's both. Or either. The many shades of teal run the gamut from a deep, rich green tinged with blue (teal green,) to a bright, cheery blue mixed with just a dab of green (teal blue.) Homes and structures on or close to beaches will often sport teal blue or teal green trim, along with other bright and happy colors. In some areas of the world the practice is to paint the front doors of the home in these happy colors, and teal is one of the most popular choices. When you are shopping for your next beach items, pay attention to the colors of the towels, umbrellas and other items. You will find that many sport at least splashes of teal in the designs. Though if the colors on the item are listed, the color will more likely be called aqua.
Turquoise, Aqua or Teal?
Teal does not only have many variations of shades, it also goes by a variety of names. One of the most familiar to many is turquoise. Turquoise, of course, is the name of a mineral used in jewelry settings and is particularly associated with some Native American tribes and the U.S. Southwest region. The mineral turquoise, like the color itself, also varies in hue from a bright blue with no green shading at all, to a deep greenish-blue, laced with black lines. Then there is aqua, which, like teal and turquoise, is blue/green in color and is another word for teal. Often people use aqua when they wish to imbue something with a beach or sea atmosphere, as the word aqua is associated with water. There is no hard and fast rule on this, however; when referring to colors, turquoise, aqua and teal are often used interchangeably.
What's Teal's Emotional Content?
Not everyone believes that colors have meaning or an emotional content, but most agree that certain colors can enhance or depress moods. Bright colors are thought to create positive thoughts and moods, while dark and muddy colors may do the opposite. So, where does teal fit on that spectrum? Many shades of teal are included in the bright and cheery category, though some of the darker shades signify more depth of emotion. Some hospitals and other institutions paint certain walls a mild teal blue in the hope that this will provide a soothing and calming atmosphere for nervous patients. What effect is produced, however, often depends on which colors are combined with which shade of teal. In general, variations of teal blue and teal green represent creativity, serenity, emotional healing, protection, and something unique and expensive.
What Colors Go With Teal?
People who are deciding on color choices for decorating are sometimes surprised when some teal shades clash with both blue and green. It is possible to find attractive combinations of these colors, but it can be difficult. In fact, the colors most combined with teal are in other color categories entirely; orange, reddish/yellow and variations of purple. Still, if you are seeking to create an undersea or ocean look, using various shades of teal to reproduce the colors of the sea can be very effective. Add in a few of the brighter oranges and purples and you can recreate the images of a sunset on the water, or colorful coral reefs.
So, What Color is Teal?
Teal, as can be seen, is so many colors–but they are all shades of blue mixed with green, or green mixed with blue. Whether you are thinking of updating your summer wardrobe, giving a beach-house look to your bedroom, or painting a wall, teal is a wonderful color. Or aqua, if you prefer, though turquoise will do as well. Don't be afraid to try different color combinations than the ones listed with teal, though. Your choice may be on that makes your chosen shade of teal stand out perfectly.
(Visited 1,779 times, 1 visits today)