Gift baskets are a great idea for many different occasions such as graduations, birthdays, engagements, weddings, welcome to the neighborhood gifts, or housewarming gift ideas. Here is an example of how you can create a gift basket using a particular theme. For this theme, it will be for a newlywed couple moving into their first home together, sort of a combination wedding and housewarming gift. As part of our theme, all items must be the color teal because you know this is color they are using to decorate their home. Be sure to keep the size of all items in proportion with the size of your basket. When finished choosing items, place them all in a wicker or straw type basket, or even use something such as a large laundry basket to hold the items. We've used Zazzle as a source for our teal housewarming gift basket ideas that are sure to bring a smile when presented to the recipients.
Teal Kitchen and Dining Gifts
From the kitchen and dining section, we've chosen a couple of useful items. First, this handy Teal Kitchen Towel is a must have item. Everyone uses kitchen towels and these can be customized with the monogram initial of the couple, or with a cute saying like "Home Sweet Home." Towels are a durable poly blend and measure 16 inches by 24 inches.
 TEAL | KITCHEN TOWEL

A handy item that can be used every day as well as be placed around the kitchen to add to the teal decor.
The next selection from this category is the Teal Chevron Pattern Monogram Cutting Board.
 Teal Chevron Pattern Monogram Cutting Board

Handy cutting board is paddle style, food safe, and has rubber non-skid feet on the bottom. Makes a practical gift idea for meal preparation that is also decorative when hung up when not in use.
The Teal and White Chevron Pattern Recipe Binder Book is another great gift basket idea.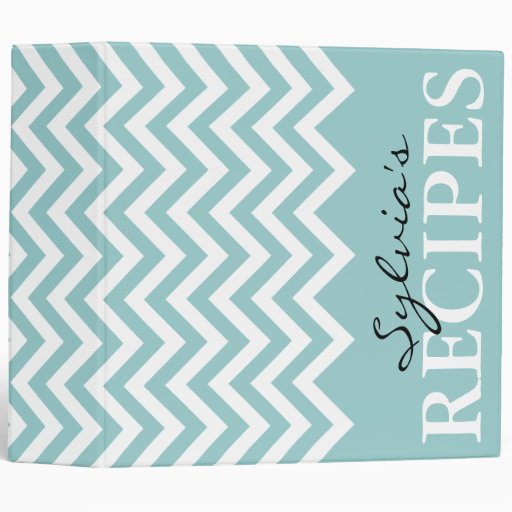 Teal and white chevron recipe binder

Binder is customizable so you can add the lady of the house's name. Designed for 8.5 inch by 11 inch paper and holds anywhere from 500 to 540 pages. You might even wish to add a few of your recipes to start the newlyweds out on the right track with meal planning ideas. Binder will provide space for hundreds of recipes through the years, keeping them organized, convenient, and easy to find.
Drinkware Gift Ideas
Every couple needs their morning coffee or tea, so why not hook them up with some great teal colored coffee mugs? The Teal and Black Polka Dot Pattern Custom Monogram Classic White Coffee Mug is a great choice.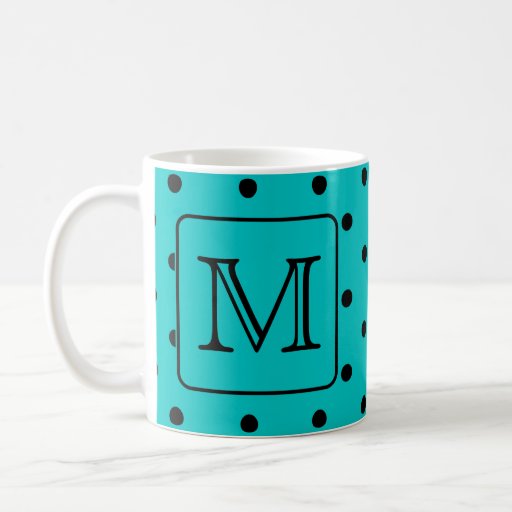 Teal and Black Polka Dot Custom Monogram Coffee Mug

Have one made for him and her , each with their own initials. Features a bright teal background with white borders, and black polka dots and monogram area.
Clocks
Help the newlyweds manage their time by putting this great Teal Ombre Chevron Clock in the gift basket.
Comes in two different sizes and can be customized by adding a photo, artwork, or text. Round clock has a pretty teal Chevron pattern which is darker colored on the border than in the center. This makes a great clock for the kitchen or dining room area.
Coasters
The Teal Glass Coasters come in a set of six.
With the look of glass, these coasters are actually high gloss plastic with non-skid backing. Coasters can also be customized. Each coaster measures 3.8 inches by 3.8 inches. This might be a purchase a couple starting out might not think of until they need it, which will typically be right away. By adding coasters to the gift basket, they'll be handy when they need them. Great for displaying on end tables or coffee table for easy access and to add a splash of teal.
Bathroom Gift Ideas in Teal
This Teal Abstract Design Bathroom Products Bathroom Set is perfect for any bathroom with a teal color scheme.
Teal Abstract Design Bathroom Set

With no specific pattern and only abstract shapes, it will work with almost any other decor. A practical item for a newlywed couple, this bathroom set comes with a toothbrush holder and soap dispenser. Product can also be customized with initials if desired.
This Teal Solid Color Bath Mat is the perfect gift for the bathroom with its quick drying core and non-skid backing.
 Teal Solid Color Bath Mats

Available in three different sizes. Mat can be customized with photo or text if desired. Both decorative and practical, this bath mat makes a great addition to the gift basket.
Great Blanket Idea
This Heart and Arrow Navy-Teal Fleece Blanket is offered in three sizes and is customizable with the couples' names. This is a practical gift that every couple needs and would look either on the bed or tossed over the back of a couch or loveseat in the living room or family room. Navy background with bright teal colored heart and arrows represent the couple's love for one another. Simply fold the blanket up and add to the gift basket.
 Heart & Arrow Navy-Teal Fleece Blanket

Wedding Keepsakes
To help the happy couple remember their special day, consider adding this Rustic Barn Wood Teal Green Petals Wedding Album Binder to the housewarming gift basket.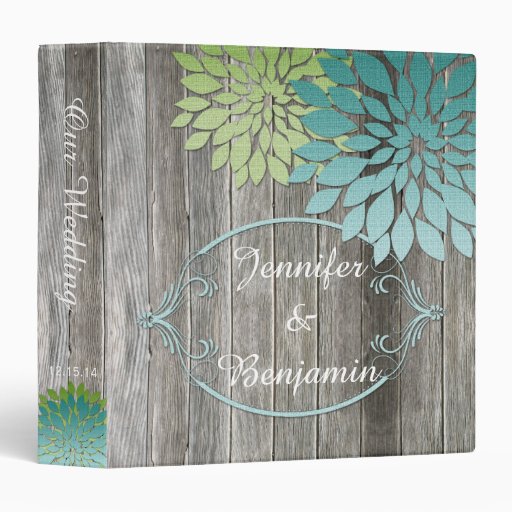 Rustic Teal Green Petals Wedding Album

Binder can be customized with the couples' names and "Our Wedding" on the spine. Binder will hold from 375 to 400 pages measuring 8.5 inches by 11 inches. As an extra special thought, go ahead and fill the binder with pages and add the photos from their wedding that you took, while leaving the rest of the pages for the couple to add their own.
Keeping with the photo theme and staying within our teal color scheme, this Teal Abstract Photo Plaque (Add Your Own Photo) makes a perfect gift. Add a wedding photo or other favorite picture of the couple to the plaque which can be personalized by adding names and a wedding date if desired. This is a photo plaque and not a frame with a photo inserted, the photo is printed right onto the surface using a dye-sublimation process. When finished, it looks just like a framed photograph with a teal border. Plaque is protected with a UV resistant gloss to resist both scratching and fading. Surface can easily be dusted or wiped clean. This is surely a gift the couple will cherish for years and years to come.
Teal Abstract Photo Plaque (Add Your Own Photo)

Oh, and don't forget the basket!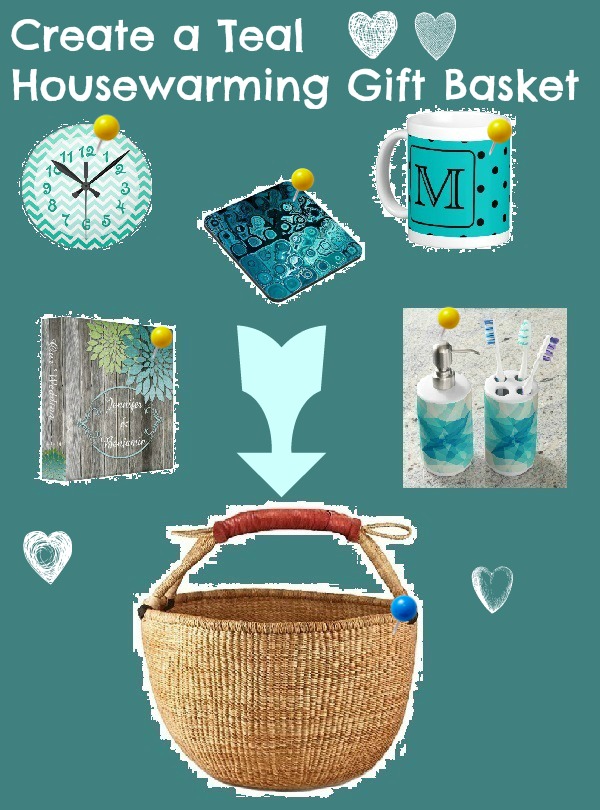 (Visited 212 times, 1 visits today)