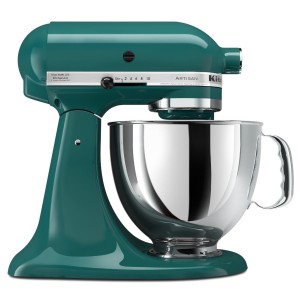 If there's a room in your house that often gets overlooked when the time comes to decorate it's the kitchen. For some reason we seem to concentrate only on the large appliances in the room, as if it's enough to spend money on the best fridge money can buy, but forget about the color of the walls.
The truth, though, is that the kitchen is one of the most important rooms to get just right. If your cookery skills stretch further than putting together the occasional sandwich you'll be spending a lot of time in the kitchen, and not only does it have to be organized perfectly to allow you to get on with your food preparation unhindered, but it also has to feel right.
At the end of the day, if you don't enjoy spending time in your kitchen you'll find any excuse to avoid it. You'll eat out, order takeout and decide it's OK eat microwave food every evening. You'll use any reason you can find to avoid having to spend more time than absolutely necessary in the kitchen.
It's obvious that this would be a very bad thing. In a perfect world you'd find cooking a joy, and you'd look forward to preparing delicious, healthy meals every day.
OK, so we can't force you to enjoy cooking, but we can help turn your kitchen into the kind of place you don't mind spending time. How? Read on…
Invigorate Yourself with Teal Small Appliances
The complaint we hear all the time about kitchens is that they're too small, too dark and too dingy. People want to cook in light, airy spaces that breathe freshness from every surface. They want to feel invigorated by their kitchen, energized and enthusiastic.
While there's little we can do about the size of the room itself, we can advise you on a few appliances and decorations that can create a feeling of freshness in your kitchen.
We're talking, of course, of teal. That unusual, bewitching tone that hovers between green and blue. The color calls to mind the ocean, a cool breeze and a warm spring morning all at the same time.
By adding teal small appliances to your kitchen you'll find the space opening up as if by magic, bringing a fresh, open feel to your space that positively invites you in.
So, just what should you add to your kitchen to bring that fresh feel? Well, we have one or two ideas…
The KitchenAid Artisan Series 5-Quart Mixer
KitchenAid KSM150PSBL Artisan Series 5-Quart Mixer, Bay Leaf
This funky retro mixer is perfect for those summer desserts, making light work of whipping cream for delicious summer fruit trifles or anything else that makes your taste buds water. The beautifully retro teal body comes with a 5-quart stainless steel mixing bowl that will turn mixing ingredients into a joy.
The KitchenAid mixer offers 325 watts of power that make light work of even the toughest ingredients. Whether you're whipping cream or kneading dough you'll have no difficulties with this powerful appliance.
Of course, we're a little more interested in the appearance (we already knew KitchenAid appliances were excellent). The teal body is just beautiful, and will add funky overtones to even the plainest kitchen.
KitchenAid 5 Speed Blender, Aqua Sky
KitchenAid Blender ksb1575aq , Aqua Sky
Another appliance for preparing those summer favorites, the KitchenAid blender is perfect for blending ice and summer fruits for delicious, healthy smoothies. As KitchenAid says themselves, this blender is perfect all the way from soup to nuts. Whether you're blending a smoothie, preparing a dip or pulverizing blocks of ice, the blender's power will take everything in its stride.
Once again, the KitchenAid blender is available in a funky shade of teal that will brighten up any kitchen.
 Step Into a World of Color
The secret to a fresh, energetic kitchen is in its color. There's no need to go the whole hog, repaint every surface and replace every cabinet, but by simply adding a few colorful kitchen appliances you can give your kitchen a new lease of life.
More important than the appearance, of course, is the fact that a kitchen with a fresh, new feeling is a kitchen you want to spent time in. I'm sure we can all agree that we'd all be healthier if only we'd spend a little time preparing our own meals.
(Visited 295 times, 1 visits today)