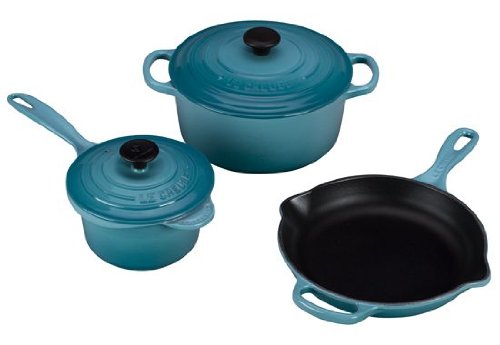 Le Creuset MS12051-17 Signature Cast Iron 5-Piece Cookware Set, Caribbean
If you are looking for an excellent set of cookware, dishware and utensils that will last a long time, then a good choice is Le Creuset. The company is known for its high-quality kitchen items that range from mugs, to Dutch ovens. In addition, you can buy them in vibrant colors, made to perk up your kitchen and add to the decor as well as the practicality. The set shown on this page is the Le Creuset Caribbean Collection which you can buy in sets or piece by piece to get exactly what you need.
For those who like the color teal, aqua or turquoise, the Caribbean Collection will fit the bill. You can also see the other colors by clicking any of the links on this page. For avid cooks, it is great to keep utensils separate by color if you use them for baking and cooking and don't want to mix flavors, and the cookware can go into the oven or sit on the stove. Definitely on my own holiday list this year. The bright colors are sure to cheer anyone up even during the long cold winter.
Le Creuset Enameled Cast-Iron 5-1/2-Quart Round (Dutch) Oven, Caribbean
Le Creuset Signature Enameled Cast-Iron 3-1/2-Quart Round Braiser, Caribbean
Le Creuset Stoneware Rectangular Dish, 12.5 by 8.25-Inch, Caribbean
Le Creuset Silicone 8″ Round French Trivet
Le Creuset Enameled Steel 1.6 Quart Oolong Tea Kettle, Caribbean
Le Creuset Stoneware 2-Quart Batter Bowl, Caribbean
Calypso Basics Utensil Set of 4, Turquoise
Revolution Sauté Spoon Color: Caribbean
Le Creuset Silicone Spatula, Medium, Caribbean
(Visited 251 times, 1 visits today)