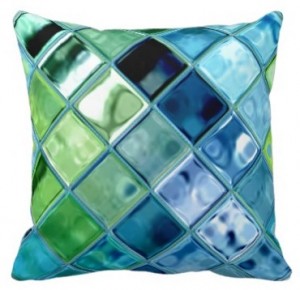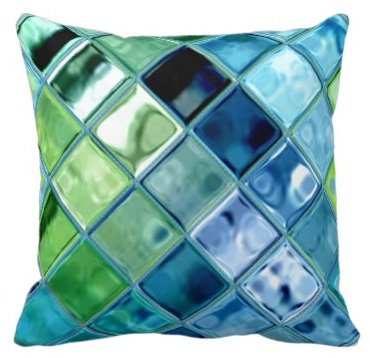 The color teal, you know, encompasses the many hues of the world's oceans and seas, from the briny depths to the sprays of the surf. This is why when you are talking about teal throw pillows, you are not just talking about a greeny blue, or a blue green. You're talking about everything ranging from a deep, jewel-like turquoise to a subtle, classic sea foam. With the right collection of teal decorative throw pillows, you can bring the feel of the seaside right into your home, even if it's in the middle of a mountain range.
Featured Throw Pillow: Open Ocean American Mojo Pillow
For the Bedroom
Your bedroom can, and perhaps should, be your sanctuary and a soothing place for you. Scattering decorative throw pillows in the colors of the sea around your room can help create this atmosphere. Teal, in its many variations, is considered a serene and soothing color that is also associated with water and the sea. Set the stage with whitewashed wooden furnishings and shutters and then add your color with accessories. Intersperse your teal throw pillows with corals, purples or yellows for a room that is cheery, soothing and evocative of a space by the sea's shore.
For the Living Room or Den
The nice thing about throw pillows is that they can be as formal or casual as you wish. For a den or living room, custom throw pillows in various teal hues can add depth to a rich and stately room, and life to a blah and pedestrian one. Couch throw pillows come standard in various sizes and colors and will do perfectly well for most people. They are wonderful for acknowledging the seasons as well. Your teal throw pillows, for instance, will work as well in fall as they do in summer. Simply add more of the deeper teal or turquoise colors into the mix in the cooler seasons, and brighten things up with the bright sea foam and aqua colors in summer and spring.
For the Kitchen
Teal throw pillows in the kitchen? Absolutely. Custom throw pillows for kitchen chairs, benches or nooks really brighten up the room. If you are going for the seaside look, pay particular attention to where the sun will shine on your teal throw pillows. Add corals, yellows and reds and perhaps dot beach glass around in jars, hanging art, and other items where it will pick up the sun. It won't matter whether your kitchen overlooks the ocean or the city streets, you'll feel the ocean your teal-based kitchen, even if you can't see it from the window.
For the Outdoors
Don't neglect the outdoors. Decorative couch throw pillows work great with outdoor furniture, and you can get them custom-made to fit. Because everything is bigger outdoors, you can take your teal throw pillows and the beach or sea theme and run with it. Place shells and sea glass in containers dotted throughout the area, or maybe have rock garden filled with sea items. Really play up the corals and the bright colors in or with your teal throw pillows, to really pop the colors. With a little bit of art sense, and the help of your custom teal throw pillows, your entire home can be a seaside haven.
 Cute Teal Paisley and Floral Pattern Throw Pillow

 Elegant Teal Light Blue Grunge Squares Pattern Pillow

 Nawiliwili Bay Hawaiian Island Tropical Scenic Pillow

 Teal Cupcakes Pillows

 Peacock Bird Collage Birds Peacocks Blue Aqua Teal Pillows

 White Butterfly Silhouette On Turquoise Throw Pillow

(Visited 217 times, 1 visits today)